Professional athletes understand how a regular schedule is important to get the best training results. Similarly, the same amount of consistency is needed to train our brains to create healthy patterns. Often times, our neurofeedback trainers are asked, "How often should I do neurofeedback?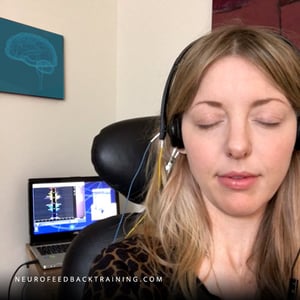 How do I get the best results from neurofeedback?" Train 1-2 times a week, and do it consistently for the full course, which is often 15-20 sessions or more. We see the best neurofeedback training results when trainees never miss a week. Consistency pays off!
Before and after – A Neurofeedback

Review & Success Story
Melissa* came in weekly and consistently for NeurOptimal neurofeedback sessions at our NYC Clinic. She completed a full course of neurofeedback training at a little over 20 sessions. She started with neurofeedback training because she read leading trauma expert, Dr. Van Der Kolk's book "The Body Keeps the Score." She wanted to lower her stress levels, reduce her worrying and reactivity, and to see if some physical ailments might change as well. In looking over her Checklist tracking logs at her before and after, it showed a dramatic change: her overall stress levels went from an 8 to a 3.
Melissa reported them too: the biggest shift she noticed was feeling more responsive and less reactive, a usual effect as the nervous system learns to come into regulation. As well, many other areas shifted. Her intestinal/gut concerns, body pain/fatigue, feeling dizzy, all improved by at least 50%.
See the following "Checklist Form" client filled out prior to training and a few months later, after doing a set of sessions training consistently.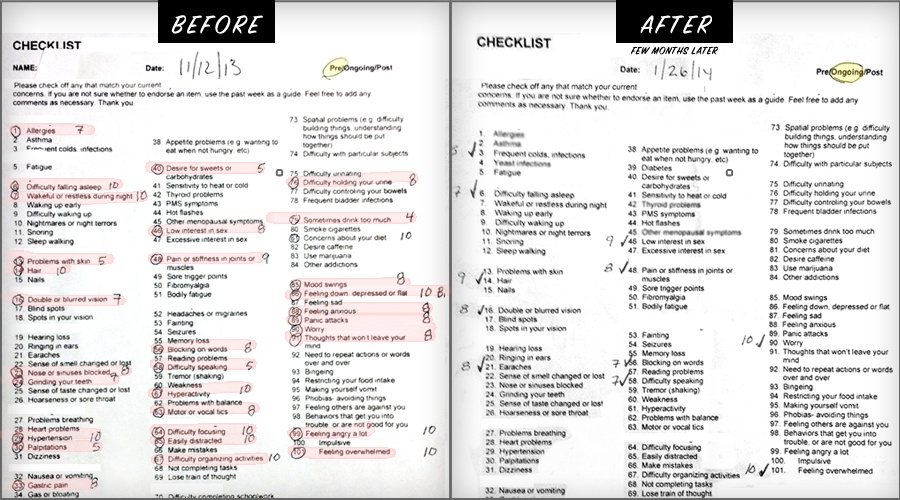 The benefits of neurofeedback can be wide ranging and far reaching. For each NeurOptimal session, the brain receives feedback to help improve the overall functioning of the Central Nervous System. Gradually, by sticking to the training and also train consistently, neurofeedback training can improve your overall wellbeing to form new habitual patterns that are more positive (calm, alert, present).
[ See also:
]
a Therapist's Review of NeurOptimal:
In this video, NYC Therapist Heather Coleman talks about how neurofeedback training has helped her experience being pregnant and reduced her stress levels while pregnant.
Only one thing will win: the destructive brain habit or the neurofeedback. So either we stop training early and the habit wins or we continue training and the habit dies."
– Dr. Val Brown, Co-creator of NeurOptimal®

Neurofeedback Consultation
If interested in learning more about neurofeedback therapy, pricing and options see this link,
, or schedule a 15 minute free phone consultation today with one of our neurofeedback trainer coaches!
*Name changed for confidentiality purposes
ABOUT THE AUTHOR
Certified NeurOptimal® Neurofeedback Trainer and Therapist Heather Coleman has been providing neurofeedback sessions at the NYC Neurofeedback Clinic since 2012.