Read the latest articles about brain training and tips for better health.
A Workout for the Brain: Couple Uses Neurofeedback to Help People
Scientists Are Looking To Improve People's Confidence By Tapping Into Their Brains
Holiday Stress Impacts Blood Sugar
New Neurofeedback Study Offers Hope for Chemo Brain Sufferers From Chemotherapy

Article 1: BENNINGTON BANNER
A workout for the brain: Couple uses neurofeedback to help people
"Instead of taking a pill to feel better, exercising your brain might be a better solution. The training subconsciously alters habits. If you go to the gym once, you don't see results immediately. That's kind of like how this is -- a workout for your brain." Read article
NOTE: The system described in this article is protocol-based neurofeedback. We use dynamical neurofeedback our clinics and rentals. Learn more about NeurOptimal vs. other systems here.

Scientists Are Looking To Improve People's Confidence with Decoded Neurofeedback
By Livia Rusu Tech Times: People's brains can be tapped in order to boost their confidence, through a technique named decoded neurofeedback, which consists of scanning someone's brain in order to analyze its activity. Then through the means of artificial intelligence, activity patterns suggesting feelings of confidence can be spotted and stimulated.
The research was published in the journal Nature Communications on Dec. 15, and it confirms previous studies that suggested the brain mechanisms that generate the feeling of confidence.
The same researchers have already published a paper that implies that decoded neurofeedback could be employed in erasing frightening memories, and the current study takes that a step further. Read article
SEE ALSO:

Holiday Stress Impacts Blood Sugar
AUDREY SCHENEWERK For The Gazette: The holiday season is nearly upon us, and it is a stressful time for many. You may be surprised to learn that stress can contribute to poor blood glucose control, in specifically Type 2 diabetes and pre-diabetes. Often we cope with the seasonal stress by eating, drinking, watching TV and shopping. These coping techniques, as well as the excess of parties, cocktails, desserts and candy this time of year can also make managing blood glucose a challenge.Read article
Article 4:
New Neurofeedback Study Offers Hope for Chemo Brain Sufferers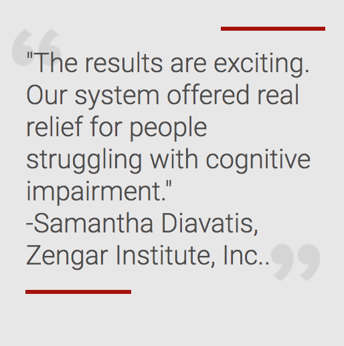 Neurofeedback brain training regimen reverses cognitive impairment symptoms in over 90% of chemotherapy patients have "chemo brain," a side-effect of treatment , a new study by The Applied Brain Research Foundation of Ohio shows.
Zengar Institute, Inc. announced results today of a new peer-reviewed study measuring the effects of NeurOptimal® Neurofeedback on patients suffering post-cancer cognitive impairment (PCCI) or "chemo-brain". The research, conducted by the Applied Brain Research Foundation of Ohio, reported a 91% success rate for PCCI patients using NeurOptimal® Neurofeedback's brain training system. 21 of the 23 participants in the study reported a complete reversal of the cognitive impairment or "mental fog" commonly associated with chemotherapy treatments.

As many as 70% of patients who undergo treatment for cancer experience diminished cognitive function side effects, including impaired memory, loss of verbal fluidity, or increased anxiety or depression. While the cause of PCCI is largely unknown, chemo brain has become a subject of growing interest within the medical community. Read article
To learn more about our neurofeedback cost and packages, click here.