From her home-base in Denver neurofeedback trainer, Kate Linsley, has been in charge of Neurofeedback Training Co's neurofeedback home rentals program since its inception in 2012.
. In 2011 Kate became a Certified NeurOptimal Trainer and started working with clients. She has coached hundreds of renters on how to get the best results from neurofeedback. I asked her to share her observations of the process, common results and best training tips here.

How many Neurofeedback renters do you handle a month
At any given time we have close to 20 renters, so I probably handle around 25 different renters each month.
What are the most common initial changes for clients?
The first changes people tend to report are improvements in sleep, less overall anxiety and improved patience--especially with partners and kids!
What's the #1 recommendation for anyone training to get the most out of their neurofeedback rental?
My number one recommendation is to make sure you rent at a time when you will have the discipline to really take advantage of having the neurofeedback equipment at home. And make yourself a schedule! Like, Monday/Thursday/Saturday before bed or Monday/Thursday get up 45 mins early and do it before leaving for work. Something like that. The more you are able to stick to a training schedule--say 2-3 times per week--the more you will gain from your rental and the more cost effective it becomes. So my recommendation is, don't let it sit unused while you're renting! A common remark I hear is, "I loved the neurofeedback, I just wish I'd done it more while I had the system."
What's the difference you see when a parent trains along with their kids, even though the reason for renting might be a child's ADHD or anxiety?
That's a great question! The difference in results between families who train together and families where only the kid trains is HUGE. When I have a family who is just training their children, the results generally seem to take longer to take effect. The parents feel unsure of what changes are happening for their children and often also struggle to get their kids to train. When parents and kids both take advantage of the rental program, I see much better results all around and faster too.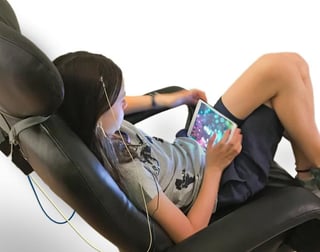 When parents are also training, (and they could be doing once a week and the child twice a week. It doesn't need to be as frequent.) But they really understand what is shifting for their kids, are able to recognize the subtle changes faster and also support the changes, because they themselves are going through it. There's more calming attunement between the parent and kids.
I've also found that the parents who train are much more successful in helping their kids feel comfortable with the training; I'd say that's at least in part due to the fact that seeing your parents training gives you confidence in the value of the training, as well as making it seem less intimidating. Some kids (especially the younger ones or ones with anxiety) can feel a little nervous about the wires or sitting still. When they see their parents do neurofeedback, it just puts them at ease and often makes them want to try it, too!
How are you different as a parent when you're training regularly?
How am I NOT different as a parent when I'm training regularly?! When I get regular training in, I find that I am much closer to the parent I want to be: patient, clear, calm, less frazzled, less irritable and more able to remember the long view.
Sometimes neurofeedback renters don't share with me why their training and that's fine. They don't have to in order for the training to work for them. And with depression, more often I don't know that that is the presenting symptoms they're hoping to shift until I check in with them, and ususally it's the second check in, where they report to me that their mood is shifting and they're feeling better, sleep is improving, they're less irritable.
I like that clients have privacy too and don't need to necessarily reveal what's going in order to receive effective neurofeedback training. Because of the stigma, there can be a feeling of embarrassment or shame for people with depression, and PTSD / trauma clients. They don't have to even give us their Checklist of Concerns to review. They can monitor those themselves and notice the improvements. So there's a built-in privacy, which I think makes it easier for them to take action to help themselves.
Of course, some depressed clients aren't a good candidate for a neurofeedback home unit if they can't motivate themselves to train twice a week. I try to assess how realistically it is that they will do the sessions before encouraging someone to rent. So I guess "non-compliance" would be the biggest hurdle. If they can motivate to do it, they do feel better. And they usually rent for 2-3 months. Some buy. One guy with depression said to me after his first month's rental, "This has to be part of my weekly regime for the rest of my life, but that's OK. I'm actually relieved to know it's there."
Thanks Kate, for sharing your experience with our readers. For neurofeedback Denver community reach out to Kate at: (347) 770-5283
Find Out If Neurofeedback Can Help You
Try it out before renting!