As a child and family therapist and a mindfulness meditation teacher parents wanting to introduce mindfulness into their child's life ask these questions: "How do I meditate with my child?" "How old is old enough and how long is too long?" Other questions I get from unsuccessful parents who have tried meditating with their child; "My child can't sit still—what do I do?," "I love to sit but they don't?" So many questions! While I may not have the answers to all, below I have compiled a list of essential tips for success when meditating with a child.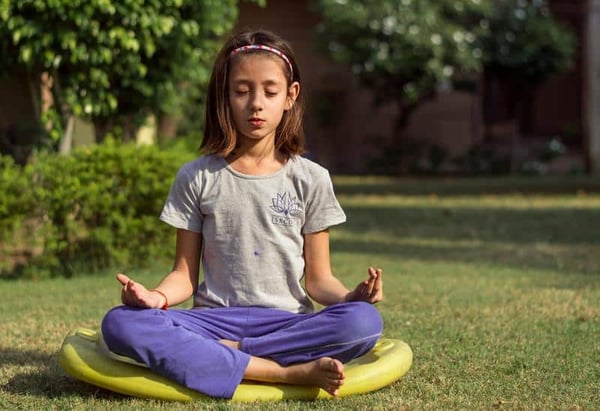 ---
There are a few important things to keep in when when deciding to practice mindfulness with you child.
First, ask yourself, what is your motivation? Why are you interested in meditation for yourself? Many people pursue meditation because of stress or pain, and in hopes of making a change, grow, heal, or soothe our way to living more in the present one breath at a time.
Anyone who has a meditation practice or who has studied the Buddhism is well aware that mediation doesn't make the pain or suffering of everyday life go away. Rather, it is a profound way to work with our minds and any thought or emotion that may arise, and over time, take our experience from unworkable to feeling workable.
The same is true for children: meditation is a tool for them to work with their minds, hearts, and emotions just like adults would. That said, like all things with children, it is all slightly more complicated because of their development stages and readiness, which is different from that of an adult.
Three Tips For Teaching a Child Mindfulness
When a parents bring their children to my Manhattan office to teach them to meditate I always ask the parent to stay for the instructions as well. I want to empower the parents to learn how they can lead short meditations at home. The techniques themselves are not challenging to learn, the key is assessing the individual child tolerance and being in attunement with their readiness.
What age should children start meditating?
There is no right age to start meditating but it's an important factor in successfully introducing a child to meditation. Every child is different. Being aware of your child's age and stage can be so helpful not because there is a "normal three year old or typical nine year old" but because there are important development milestones and markers that most parents (aka adults) don't know about or don't remember because it was SO long ago that we ourselves were children.
Buddhist Teacher, Chögyam Trungpa Rinpoche said, "You can't dismantle your ego with sitting practice until you develop your ego." In the Shambhala Buddhist tradition, formal meditation instruction is passed on around age 8-10 (depending on the child).
Generally, the instruction is given at a Rites of Passage program where honor and time is given to respect this magical age when children begin to shift out of young childhood and into the more mature mindset of being an older child with more understanding of the world around them. Nine years old is a big marker in childhood and other world wide religions also have ceremonies at or around this age.
What is the best length of time for a child to meditate?
A second important factor in helping a child learn to meditate is the length of the meditation session. Children under the age of eight or nine have very short attention spans.
We happen to live in a world, and in a culture especially, that asks a lot of young children. However, meditation doesn't need to be one of those places.
One way to introduce children younger than eight to meditation is through games or challenges. Young children can mindfully still their body and listen to a ringing gong, usually for a minute or two.
It can be fun with one child or a group of children to play a game focused on stillness and quiet, but one must be realistic. Your young child is most likely not ready to join you for your next 20 minute sit. Indeed, sessions with children should be short: no longer than their age for sure. Most five year olds I know can not sit for five minutes but they can be still and quiet for a minute or two.
What are the best techniques for meditation with a child?
When children experience mindfulness meditation, the focus should first be put on the mindfulness aspect, and not the meditation aspect.
Formal sitting meditation (i.e. attention on the breath, labeling thoughts "thinking," etc.) is best for older children, teens, and adults; however, younger children love to explore their bodies and their senses. So ask your child to really sit or really stretch or perhaps really dance! Mindfulness meditation activities involving I (listen to the gong or bell) and taste (chew and taste this MnM or salty pretzel) are big hits with young children. So get creative and have some fun! Children are under so much pressure these days and sitting practice or a mindfulness meditation at home or school doesn't need to be one of those pressure places. The key is to just have fun and be present to each other!
Other resources and ideas for meditating with your child Around New York
In and around New York City there are a lot of resources for meditative activities. Below are a few to check out. If you don't live in New York google to see what's in your area. Often yoga studios will offer children's yoga and meditation classes.
The key to successfully helping your child learn to meditate is to make it short enough that they are able to stay present and fun enough that they want to do it again.