We all know that a healthy diet and regular exercise can help support a healthy lifestyle but did you know that brain training with the NeurOptimal neurofeedback system can promote your wellbeing? We'll go over the benefits of this brain work-out and how it works.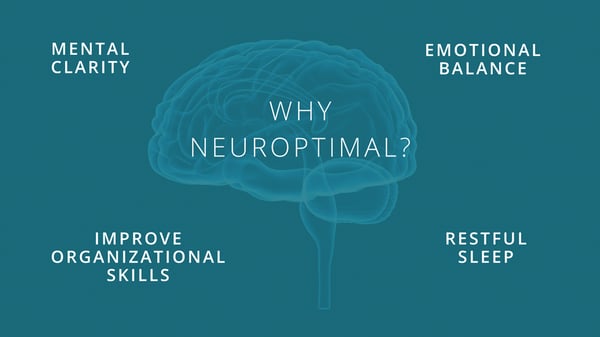 What is the Best Support For A Healthy Lifestyle?
Neurofeedback training may help you cope with things better (loss, relationship issues, family) and boost self-esteem at your work place and life. Here's how Neurofeedback can help you cope with everyday stressors.
What is Neurofeedback?
Training with the NeurOptimal® system can help with your emotional balance, getting more restful sleep to mental clarity.
The Dynamical NeurOptimal® system is an advanced mental fitness tool that can promote more calm in your life and cope with everyday life's stressors. The feedback is experienced through listening to a song and sessions are 33 minutes long.
---
How Does NeuroOptimal Work?
Check out this short fun explanation from NeurOptimal
---
Is NeurOptimal Safe?
Yes, NeurOptimal Neurofeedback is safe for adults, children of all ages, and it's a wonderful tool to bring bring into your home to train the whole family.
Here's a testimonial from a client in North Carolina who rented a neurofeedback home system and trained consistently, 2-3 times per week, for 2 months:
"I've used the NeuroOptimal neurofeedback machine for 2 months to help manage my stressful job and life - training 2-3 times a week. I'm becoming noticeably more comfortable in both personal and professional situations, hooray! It feels great to have found a tool that has truly helped move the needle on issues I've been experiencing (self-esteem, performance anxiety), (and trying to resolve in various ways) for years. I liked my neurofeedback home rental experience so much that I ultimately decided to purchase a system. Thanks! :)."

– A., North Carolina
For some, it's even been a life-changing story:
"Neurofeedback has totally changed my life. I've struggled with having low energy and mood for 6 years on and off. This winter I was not feeling so good when I started neurofeedback. Within the first couple of sessions I could tell there was a shift, and now after 18 or so sessions, I feel like myself and have not felt this stable in my adult life. I'm so grateful for this service and wish more people knew about it!"

– S. in NYC
---
READ ALSO
Neurofeedback Cost & Rental Packages
---