NYC Neurofeedback Trainer Alison Pepper, LCSW who also works as amindfulness-based psychotherapist explains how neurofeedback training can help support a healthy lifestyle and promote wellness.
What is the Best Support For A Healthy Lifestyle?
Here's how Neurofeedback can help you cope with everyday stressors!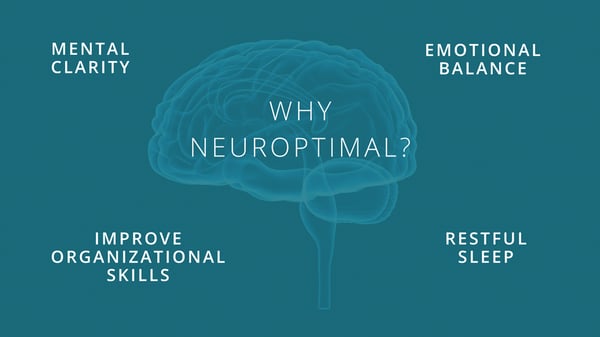 What is Neurofeedback?
Training with the NeurOptimal® system can help with your emotional balance, getting more restful sleep to mental clarity.
The Dynamical NeurOptimal® system is an advanced mental fitness tool that can promote more calm in your life and cope with everyday life's stressors. The feedback is experienced through listening to a song and sessions are 33 minutes long. NeurOptimal Neurofeedback is safe for adults, children of all ages, and it's a wonderful tool to bring bring into your home to train the whole family. Here's a testimonial:
I've used the NeurOptimal neurofeedback machine for 2 months to help manage my stressful job and life - training 2-3 times a week. I'm becoming noticeably more comfortable in both personal and professional situations, hooray! It feels great to have found a tool that has truly helped move the needle on issues I've been experiencing (self-esteem, performance anxiety), (and trying to resolve in various ways) for years. I liked my neurofeedback home rental experience so much that I ultimately decided to purchase a system. Thanks! :)

– A., North Carolina

For some, it's even been a life-changing story:

Neurofeedback has totally changed my life. I've struggled with having low energy and mood for 6 years on and off. This winter I was not feeling so good when I started neurofeedback. Within the first couple of sessions I could tell there was a shift, and now after 18 or so sessions, I feel like myself and have not felt this stable in my adult life. I'm so grateful for this service and wish more people knew about it!

– S. in NYC
How does NeuroOptimal work? Check out this short fun Explanation
To learn a bit more about NeurOptimal, click here to learn more about your training options; schedule a session, rent a home system and the neurofeedback products for sale.
Written by Alison Pepper, LCSW & NeurOptimal Neurofeedback Trainer
Alison Pepper is a NYC Neurofeedback Trainer. She's also a bilingual therapist for over five years (fluent in both English and Spanish), SIFI certified, and a meditation teacher.
"I believe all people have the tools to heal ourselves; grow, learn, and reach our full potential. No matter what your age or life circumstances therapy is a safe space to do that work."
Go back to main page about Stress Management

Rewire Your Brain - how to change

your life by changing

your

thoughtsIn this Ted Talk, Neuroscientist

Dr.

Joe Dispenza

details how it is possible to change. Here's a great short talk on the brain and the stress response. TED Talks with Dr Joe Dispenza -

YouTube

http://bit.ly/2S5hA5B