The days are getting longer, the temperature is getting higher and summer is knocking on our doors. Summer brings possible travel, dining alfresco, and outdoor spots. Why not supercharge your summer with neurofeedback training? Feel your best; most relaxed, calm, and focused with the support of neurofeedback! In this blog post, learn how neurofeedback works and your best training options.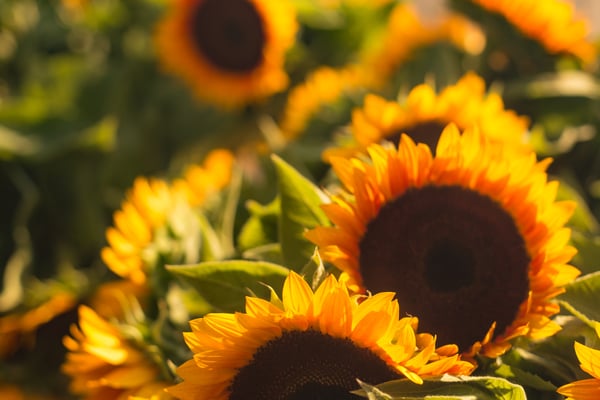 What is Neurofeedback training and how could it help?
Neurofeedback is a noninvasive holistic brain training that helps build resilience and flexibility.
NeurOptimal© neurofeedback works by training the brain to use
present moment
information to decide what to do next, rather than old, often out-of-date information. This advanced brain training technology--developed in part by, NASA-level engineers -- works by triggering what's called the orienting response, which is the brain's ability to sense change in the environment and take in new information about what is different. To learn more about what to expect from a session click here.
If you feel like you are stress all the time, tired because you aren't sleeping well, maybe struggling to concentrate, or wanting to isolate and avoid people and places right now neurofeedback can help. Rather than treating any particular symptoms neurofeedback trains and the whole brain and helps your
nervous system function in it's most powerful and helpful ways.
Take The Neurofeedback Device on the road with you
Neurofeedback can be done by scheduling
in-office sessions
or in the comfort of your own home. If summer means you take three day weekends and will be traveling a lot, then why not consider training at home and taking your neurofeedback with you on the road?
When you rent with us all your neurofeedback training equipment comes in a small backpack or laptop case. We provide you with easy to use manuals and support during your rental month. Your 9 pound bag can be packed in the car or taken on the plane with you and you can hook up and run a session when and where it is best for you! If you what to supercharge your upcoming vacation or work trip this summer think about bringing a neurofeedback system with you.
Brain Training – Something the whole family can do
NeurOptimal© neurofeedback training is a safe, effective and and healthy for anyone to use. That means children, parents, and grandparents can train. No matter what your age, anyone can hook up and get the benefits of a session. A recent renter, mother of 2 said this about her experience training at the family at home:
"My husband tried neurofeedback for the first time last night. I guess he was convinced because my 4 year old son has been very into it and we've noticed some changes ~ his wild behavior has gotten a little less wild and he's been more receptive to alternative activities. Now that I'm over the hump of getting started it's been a lot easier to do session".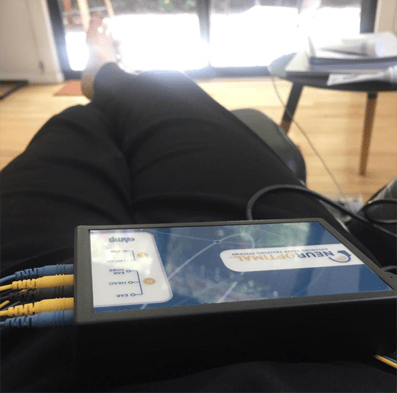 Here's another NeurOptimal Review from a client who travels a lot:
"Each year I visit my family in Europe and one of the key items for my wellbeing when I travel is the NeurOptimal home system. Before I leave, I set up a schedule to train a few times before my flight to ease the stress about traveling and when I arrive. It really helps with my jetlag! Another suprising change when training has been that my language has improved significantly. It's easier than ever to switch from one language to another, perhaps because I feel more relaxed and less triggered in stressful situations. Who knows. All I know is that this training is amazing! So grateful that this exists."
-
Client did 25 sessions. First at the #NYCoffice and then rented a home system for two months. After noticing the good results, the client bought a system.
When starting training with the neuroptimal neurofeedback, we recommend to expect do at least 20 sessions spread over a period of two months to get top results. If there is a diagnosis such as ADD, ADHD, Brain Injury, Anxiety and Depression etc., more may be needed. Therefore, renting a system is the most convenient and cost-effective way.
Want to try?
To learn more how neurofeedback could help you and your family check also out this blog post,
How Neurofeedback Encourages Mindful Parenting & Flexibility, or contact us to schedule a free 15 minute consultation.
Written by Alison Pepper, LCSW & NeurOptimal Neurofeedback Trainer
ABOUT THE AUTHOR
Alison Pepper is a NYC Therapist and a Neurofeedback Trainer working with families and children dealing with mental health issues; with an emphasis on trauma informed work. She's a bilingual therapist for over five years (fluent in both English and Spanish), SIFI certified, and a meditation teacher. She recently became a Certified NeurOptimal Neurofeedback Trainer at Neurofeedback Training Co. in New York City.