We started renting out NeurOptimal home systems to individuals and families around the U.S. and Canada in 2011. Since then we have received hundreds of reviews from our clients. Enjoy reading some recent neurofeedback reviews from our renters.

"It was totally wild. After my first session I felt my body relax in a way that I had never experienced before. It made me realize how tense I've been for my entire life."
Simon*, 51 years old, who had rented a system because his teenage daughter was experiencing anxiety after a friend had attempted suicide. He had heard that neurofeedback helped anxiety and he didn't want to put her on medication. I had encouraged him to train as well because we see the best results when parents train during the same rental period as their children. (Read more about how parents' nervous systems affect their childrens'.) When we checked in after their second week of renting (he was training 3 times a week on himself) he described a "profound level of relaxation." This new experience made him realize that his baseline state was actually a high level of stress and anxiety. But previous to his first neurofeedback session it was all he knew. "I started to think about my childhood and I realize how scary it was but how I had just sucked it up and carried on. Now I realize my body was still in a state of terror and it's now starting to relax."
[Related:
]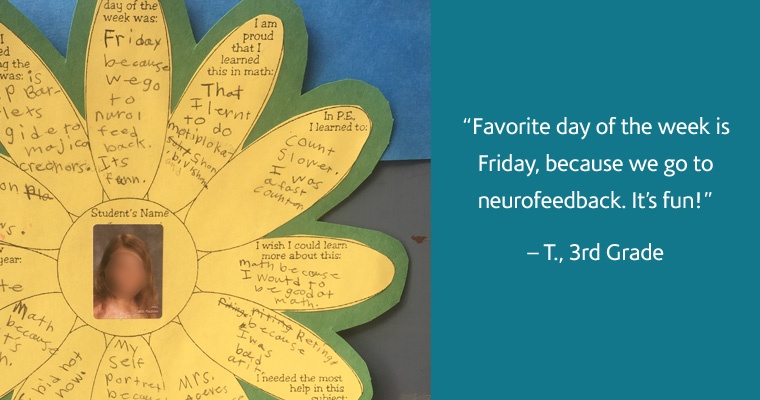 "We rented a neurofeedback home system for our 8-year-old daughter who was wetting the bed every night. After the third session she stopped the bed wetting and she's so much calmer. Then we started training our other children as well. We realized that everyone could benefit. I have to say, after a month our house is much calmer."
[ Read Also:
]
Tal, father of four, told me his story when, after his first month of renting, was inquiring about purchasing a system. He was very disciplined with training everyone twice a week, which is key to good results and said he was really noticing how the tone of the home was more peaceful. His wife, who "usually is very anxious about the children" he noticed was not as worried about them. Read more neurofeedback therapy reviews: Getting best results when training – consistency is key!
---
Communicating With The Central Nervous System, Brain Training With NeurOptimal® Can
Help Improve Cognitive And Physical Performance, Enhance Focus And Deepen Sleep.
"The first change that I noticed during the two months of training was an improvement in word recall and articulation. I experienced this after the first 5-6 sessions. Since then I have also noticed improved attention and find myself getting "lost" (in a good way) in my work a bit more often than I used to. I did not see an improvement in sleep patterns. I actually have been having more trouble with sleep than usual but I am attributing that to some other health issues in my life. However, I have noticed an increased resilience to lack of sleep. Losing a couple hours of sleep has far less of an impact on my productivity and quality of life than usual. I am not sure if this is a good thing or if it can be attributed to neurofeedback but it has been a clear and definite change worth noting. In addition to these observations, NeurOptimal sessions are just flat-out relaxing and enjoyable and I am glad I got the chance to give it a try! I have had 2 or 3 pretty serious bumps to my head in my life and based on the research I have come across, neurofeedback is one on the best ways to mitigate the downstream neurological effects.
– Tim, 53 year old sales executive, sent us his feedback after renting a system for two months. He trained 3xs week during those two months.
*All names changed for privacy reasons.

Does the Neurofeedback Training Last?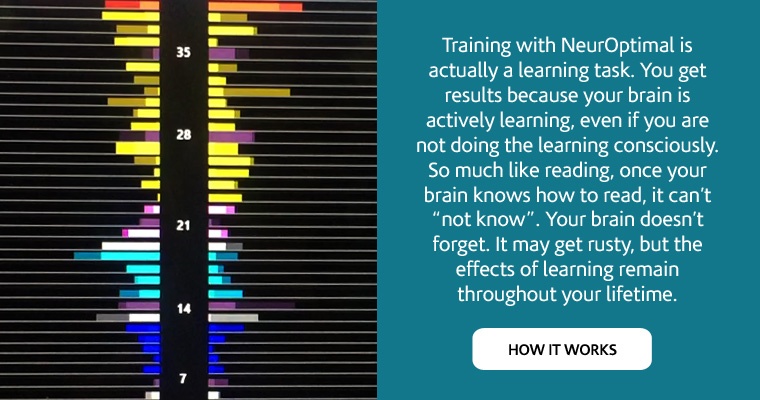 START TRAINING TODAY!
Top training option is to rent a home system. Same training as in our clinics. You can also buy the equipment from us. Learn all your training options