Neurofeedback optimizes your brain to function at its best.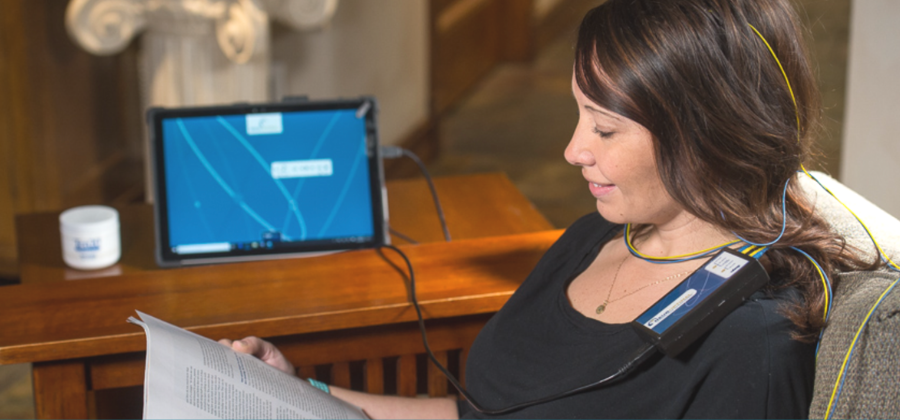 Scroll down to learn the cost and how it works. Ready to rent? Fill out the form to the right.
Training Your Brain with NeurOptimal® Helps With...
Stress Management; coping with

life's daily

stresses
Improvements in sleep quality; restoring natural sleep rhythms

Enhances learning capacity;

improves

mental acuity
Same effective Training as in-office sessions. Fill out the form to the right to Get Started!
Top Reasons why a Neurofeedback at Home is the best Training Option
Same state-of-the-art technology as professional system
Train the whole family or with your friends at home
Non-invasive brain training safe for any age
Easy to use – in 15 minutes you'll know how to train safely at home
Save money (60% cost savings compared to in-office sessions)
The neurofeedback home system is the exact same technology as the professional neurofeedback system used in the office. All the extra materials is included for the training. You quickly learn how to hook up themselves or loved ones, either through an in-person tutorial session at one of our locations in NYC, Pasadena, Boulder or Denver, or through a printed step-by-step manual. You will also be assigned a neurofeedback trainer coach if more help is needed.
Here are two recent reviews from renters.
"This is by far the best investment in self improvement I have ever made! I don't lose my temper at the drop of a pin anymore. I still get annoyed or upset, but I haven't yelled, felt overwhelmed, or flooded since I rented the system."

NeurOptimal® sessions are just flat-out relaxing and enjoyable and I am glad I got the chance to give it a try! "
Neurofeedback Cost & Rental Packages
Choose between three monthly plans:
Personal Plan: *$650/m. Includes 12 sessions (ideal for one person).
Family Plan: *$800/m. Includes 22 Sessions (ideal for individuals or couples who would like to do more than three neurofeedback sessions per week).
Unlimited Plan. *$900/m. Unlimited sessions (ideal for families, partners or friends who want to train together).
* PLEASE NOTE:
Minimum rental period is one month (30 days)

Pay as you go, upgrade or downgrade plan after the first rental month and extend as long as you wish.

Additional sessions can be purchased for the Personal & Family Plan at $25 per session (billed upon return).

If training more than six people pay an additional $50 per month to cover the cost of the conductive paste and wear and tear of the EEG sensors.

Residents in NY, CO and CA pay sales tax.

We offer a flat-rate shipping cost within CA, CO and NY for only $75 (includes return shipment & shipping insurance). All other states and Canada pay $90 for shipping.
Have More Questions? Use our Chat widget or Fill our the form to Schedule a Free 15 min. Call with an Experienced Trainer.
Get Started with Renting a Neurofeedback Home System Today!