What's Included in the NeurOptimal Professional Equipment?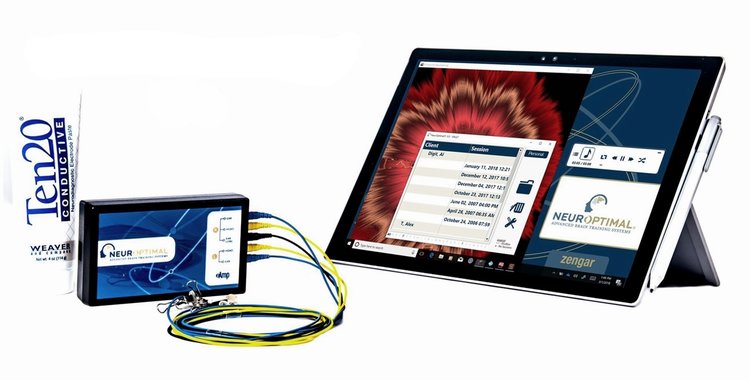 Do I need to purchase extra items to get started?
The Professional Bundle includes everything you need to set up and train your clients.
It includes:
computer hardware and software (not monitor which is optional and not needed to perform a session)

manuals

EEG paste

ear buds

6 month membership to PASS (

unlimited technical support,

access to professional educational supports including,

many hours of webinars by experts,

over 10 forums to ask questions from experts on topics from clinical issues to marketing, s

earching capabilities in forum library to find previous posts on a topic that interests you)
Once I purchase a professional neurofeedback unit is there an on-going licensing fee or other monthly fees?
No, unlike other neurofeedback systems, which require you to pay an on-going monthly fee so long as you have the unit, with NeurOptimal you own your equipment out-right. You may decide to renew the PASS membership on annual or monthly basis for on-going technical support, access to educational tools and the community of professionals, but it is optional.
How do I get certified as a NeurOptimal neurofeedback trainer?
Because the equipment is fully automated and safe to use by anyone, Zengar, the makers of NeurOptimal, encourage professionals to first purchase the equipment and use it for a few weeks on themselves and on a select few other trainees, before signing up for the Basic Neurofeedback Certification training. This initial first-hand experience of the equipment helps prepare for the training. Some people rent a professional unit to try first before purchasing. There is no "correct" way to get started.
The Basic Certification costs less than $700 and provides you will all the technical training as well as basics of how and why the system works. The course is a three-day online training with an expert trainer. In some areas of the world they have local, on-site training.
The main source of learning, and how we become an "expert" is through the process of training ourselves, working with clients and reading old forum posts, posting questions to the experts on the Forum, and watching the webinars.
How do I go from exploring whether it fits for my practice to purchasing my NeurOptimal system and integrating it into my practice?
Some professionals try it first by renting a professional neurofeedback unit and trying it on themselves or a few appropriate clients. Others do the training and educate themselves through reading about neurofeedback and discussing with professional trainers what method has worked for them before embarking on purchasing. Others buy one immediately then take the Basic Certification training. Again, because the system is 100% safe there is no danger in starting training before doing the certification.
SEE ALSO: