Thich Nhat Hanh, a Vietnamese Zen Buddhist monk, has written extensively on the practice mindful parenting:
"Life is available only in the present moment. When we play with our children, many of us are actually thinking about those dishes or that phone call or about how our feelings got hurt by something our sister said. When we are mindful, we put our full attention on whatever is going on in front of us right now."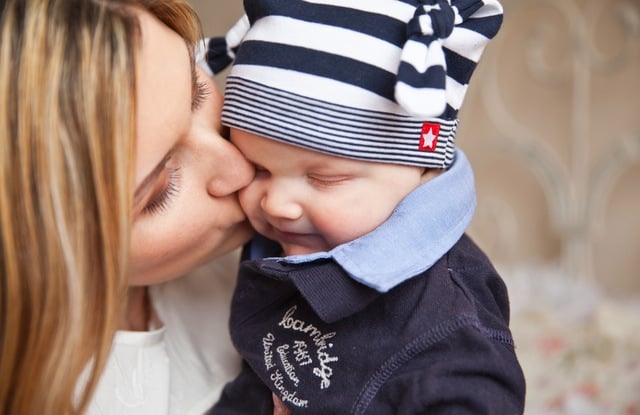 Mindful Parenting
Mindful parenting is no easy task and becoming a parent is one of the toughest role transitions in life. Learning how to be a parent can feel like overwhelming on-the-job training when we are disconnected from our internal and external resources. Often times we might find ourselves personally divided between our own emotions, technology, work, chores, and our children. So how do we pay loving attention to our children in this wild world of distraction and dis-ease? As a Buddhist psychotherapist living in New York City, learning the art of mindful mothering my biggest teacher has come in the tiny package of my 6 month-old daughter.
Here are 4 mindful mommying tips:
Patience
Patience is an internal resource that cannot be over-emphasized in parenting. When faced with comical situations of overwhelm, such as changing a diaper in a stroller with no wipes while attending to a screaming baby, the only option is to laugh and slow down. My baby, Eloise, is high-needs; early on she had colic and reflux, which sometimes meant 12 hours of crying in one day. I learned how vital it was to pause, slow my body down and, hopefully, laugh. It is also easy to feel like a "bad parent" when we are unable to remain present. Reminding ourselves we are doing a "good enough job" by showing up as much as possible can help to assuage the inevitable guilt of not being able to meet every one of baby's needs perfectly all the time. Patience in parenting is a two-way street for baby and one's self.
Attention
Many parents told me that parenting would feel like having your heart outside of your body crawling around in a human form. It was true; I felt nervous to take my eyes off of her for even a second. Over time, my nervous system relaxed and I found just the right amount of attention that Eloise needed from me and times when she just needed to be left alone. Having a way to re-regulate a dysregulated nervous system can be so important (such as with neurofeedback) When we aren't in a state of activation (fight/flight) or freeze (despair/depression), it is much easier to understand and be attuned to the needs of your baby. Moreover, when smartphones and computers steal our attention multiple times a day, it can be easy to space out and disconnect from our experiences with our children. Of course, there is no way to be a "perfect parent" again, but there is an opportunity to notice when we might be giving more attention to objects than our children, and gently scale it back a bit.
Mommy Intuition
There is more advice casually thrown around about parenting than on most other topics. Everyone means well when they want to give you the latest tips on sleep training, breastfeeding and the best baby gadgets, but ultimately the person with the most useful information is mom herself. Becoming a mom has been the largest lesson in learning to trust myself. When we are able to bring mindful attention to our emotions, we can easily understand what the best decision would be for our own child over anyone else.
Mommy Martyrdom
Trying to do more than is humanly possible (and thinking that's a good idea!) I have fallen into the "Mommy Martyr" category more than once during my short period mothering. I decided early on that I would practice Attachment Parenting with Eloise which basically meant intensive babywearing, co-sleeping and breastfeeding. As the world often works, this did not go as planned. Eloise only likes being carried for an hour a day before burning out and with breastfeeding I discovered she needed more than I produced so in came supplementation with formula. My latest voyage through sleep deprivation has taught me that self-care has to be figured into the parenting equation. Post-partum depression and anxiety is common; without taking care of our own needs, combined with raging hormones and new chemical imbalances, it is easy to fall into overwhelm and despair. Help is always available in the form of talk therapy, and we can also start to do some work in making sure our own needs are met. We can make sure we are getting enough help (an external resource) from those who respect our parenting style. We can make sure we have at least an hour or two of personal time a week sans baby. We can make sure we are getting our basic needs of eating, showering and napping daily. We can understand our own limits when we need to have any kind of break. When there is any kind of caregiving relationship, it is of the greatest importance to put one's own oxygen mask on first, even before baby.
Loving attention is the theme of mindful mommying; for both the child and one's self.
It's easy for the balance to tip over at times, but mindfulness can help gauge when that might be happening and to dial it back a bit. Of course if postpartum depression and anxiety are making it difficult to find loving attention for one's self or baby, it is best to locate appropriate help through therapy and alternative services to help the nervous system re-regulate.
neurofeedback Therapy Near Me
Schedule a session at one of our locations in NYC, Los Angeles, Denver and Boulder or click here to learn how to rent or buy the neurofeedback equipment for home use. Same effective brain training.