What Neurofeedback Can do for you...In The Comfort Of Your Own Home!
This brain training method can help you cope with stress, create calm, increase mental acuity and improve sleep management.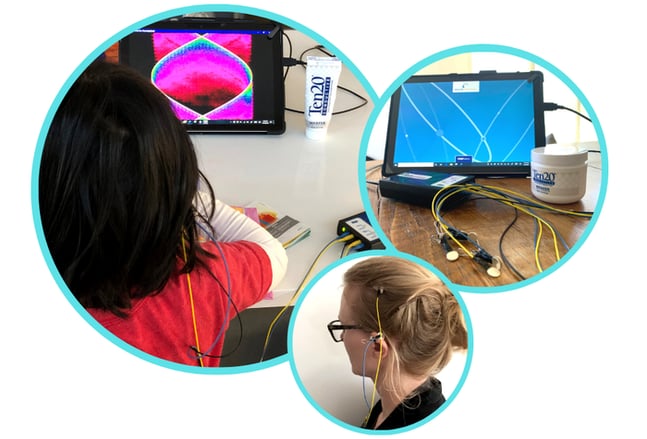 Yes! I'm interested in neurofeedback and want to learn more
Fill out the form to the right to schedule a free 15 minute phone consultation with one of our trainers to discuss:
Your training objectives

Best training schedule

Tips to optimize your training, and

Whether to schedule in-office sessions or to rent the professional-grade neurofeedback device.
Why Rent a NeurOptimal System from Us?
The neurofeedback technology in the NeurOptimal® home unit is identical to the professional equipment we use in our clinics. The difference is that home training is more affordable and convenient. A session can be as low as $40 or more depending on what monthly plan you choose.
This safe, FDA Approved, non-invasive neurofeedback technology is easy to operate. You'll be up and running your first session in 15 minutes! And we have experienced neurofeedback trainers available to answer questions during your rental period.
Neurofeedback Reviews: What our Clients Say

Here's a review from a New Yorker who trained for two months and saw results:
"After two months of renting, training 2 times a week, I'm becoming noticeably more comfortable in both personal and professional situations, hooray! It feels great to have found a tool that has truly helped move the needle on issues I've been experiencing (and trying to resolve in various ways) for years. I liked my neurofeedback home rental experience so much that I ultimately decided to purchase a system. Thanks! :)"
If concerned on how to set up the system at home, we provide a printed manual with detailed step-by-step instructions with your home rental. You will also be assigned a neurofeedback trainer coach to guide you if you need further help.
Here's a review from a mom in Texas:
Ellie has used the machine twice and it's helping tremendously already! Whomever made the instructions, did an incredible job. They are very helpful. Thanks so much for all of your help!
This mom in Oregon noticed some surprising behavior changes in both in herself and her son.
I sought out neurofeedback training to help my brain fog issues and aslo for my adult son to manage his stress from childhood trauma. I have always been a very disorganized person, so much that I got into trouble at my job and almost got fired for not keeping my workspace clean. After about one month of consistent training, I was surprised to notice my behavior and overall attitude shifted. One day I began cleaning up my work-space and have kept it neat and clean since. My son started the training after seeing the results in me. His changes were not immediately noticeble but after about 12 sessions I noticed he was less withdrawn, more communicative and overall happier -- and also more organized! He cleaned out not only his own closet but also our kitchen -- without me asking. I highly recommend this training, but make sure to get the training in and trust the process!
Fill out the form today to talk to an expert neurofeedback trainer!