Rent an advanced Neurofeedback Home System For home Use – Same Technology As In Our Clinics!

Fill out the form to the right to and we'll get back to you with the next step.
Neurofeedback Rental Packages & Cost:
The equipment is easy to use and you'll receive everything you need to do the training at home, including paste.
Choose between three monthly plans (We're happy to match any price!):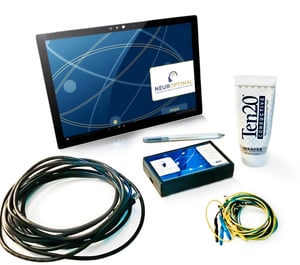 Personal Trainer: *

$600/Month
Ideal for one person training 2-3 sessions per month

includes 10 sessions* (=$60 per session)
Family Trainer: **

$800/Month
Ideal for two or more people or for one person training more than 3 sessions per week

includes

20 sessions** (=$40 per session)
Unlimited-Use Trainer: *

$900/Month
Ideal for an entire family (up to six people)

Use as much as you'd like (we do not recommend training more than once a day)
*Plus sales tax if in CA, CO or NY.
**If renting the Family or Personal Trainer plan, additional sessions are $25 per session and billed upon return.
Why renting from Neurofeedback Training Co.?
We've been renting out NeurOptimal systems in US and Canada since 2011. The NeurOptimal neurofeedback system provide the exact same training as our in-office sessions. It is a fully automated neurofeedback system, with the latest software update NeurOptimal 3.0. This advanced neurofeedback system does not require any diagnosing tools (brain mapping) for it to work.
How it Works - Good to Know Before Renting
System is very easy to use; a step-by-step guide is included and you'll be assigned a rental manager throughout your rental period if you need more help getting started
One month minimum. Pay as you go and extend as long as you wish. Upgrade or downgrade the plan after the first rental month.
If not finished with the included sessions, they rollover to next rental period if extending.
Two months or more of training is best for optimum results. Read the reviews from rental clients here.
Shipment is not included in cost. Pick up at one of our locations in (NYC, LA, Denver or Boulder) for free or have the equipment shipped directly to your home for a flat-rate of $75 within US (includes return shipment as well as insured package) and $100 to Canada (one-way only).
Payment is not due until we have an online reservation and all the required paperwork in place. 24h before shipment/delivery
Yes, we do payment plans!
No waitlist! Make your reservation online, fill out the form to the right to learn your next step!
Want to talk to a Neurofeedback Trainer?
Yes, I'd like to Rent a NeurOptimal Home System