NEUROFEEDBACK TRAINING CO. TEAM
NATALIE BAKER, LMHC
Psychotherapist, Advanced NeurOptimal® Trainer, Dr. Amen Brain Health Expert and Owner of Neurofeedback Training Co.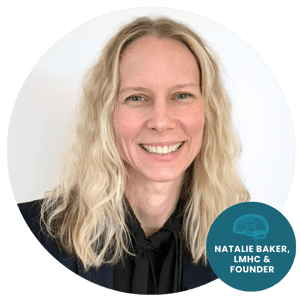 About
Natalie Baker is a licensed psychotherapist and also the founder of Neurofeedback Training Co. She has over 20 years of experience as a psychotherapist treating clients with conditions such as PTSD, trauma, anxiety, depression, ADHD, insomnia, and relationship issues.
When she introduced NeurOptimal® neurofeedback into her practice in 2011, she was thrilled to discover neurofeedback was a significant support in her clients' healing. As a sales representative for NeurOptimal® (Zengar), she helps educate consumers and health professionals about NeurOptimal®.
She is also a Certified Brain Health Coach through the Amen Clinic. The program provides a comprehensive education on understanding brain health and its impact on overall health and wellness.
To learn more about purchasing a home neurofeedback device or professional system, see this page.
Counseling Services
Natalie works with clients on three levels: physical, psychological, and spiritual. Some clients want all three levels, some come just for the physical (neurofeedback training).
Therapy Specialties
Anxiety, Depression, Life/Work Transition Issues, Relationship Issues, Trauma, PTSD, ADHD, Spiritual Impasses, Parenting, Meditation/Relaxation, Emotional Communication and Intimacy
Price per Session: $250/session (virtual therapy sessions only)
Location: NYC (Union Square): 32 Union Square East, Suite 1017, New York, NY 10003
Fill out the form below to schedule a consultation with Natalie.
Resources
Free Neurofeedback Webinars and Podcasts with Natalie Baker
Watch a Q&A Webinar on Neurofeedback. Sign up
Watch Webinar on Neurofeedback for Professionals. Sign up
Watch Webinar: How Neurofeedback Offers Help For Emotional Self-Regulation. A 30 minute webinar on self-regulation; what it is and what helps with advanced NeurOptimal® neurofeedback trainer Natalie Baker, LMHC. Watch on YouTube
Listen to Beautifully Broken Podcast with Freddie Kimmel: Episode 38: Neurofeedback To Optimize Your Healing Process With Natalie Baker
Follow our YouTube Channel and watch videos on Neurofeedback; "Will the results last?," "How Many Sessions Should I Do?," and "Evolution of Neurofeedback."


Webinar:

On Neurofeedback For The Concussion Community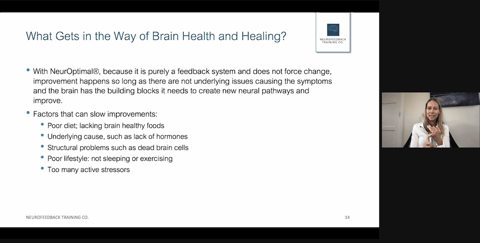 On October 19, 2021 Natalie Baker, owner of Neurofeedback Training Co., and Advanced NeurOptimal® Trainer presented a 45 min. webinar on the online platform The Concussion Community, discussing how NeurOptimal® brain training supports overall brain health and healing after a concussion and TBI.