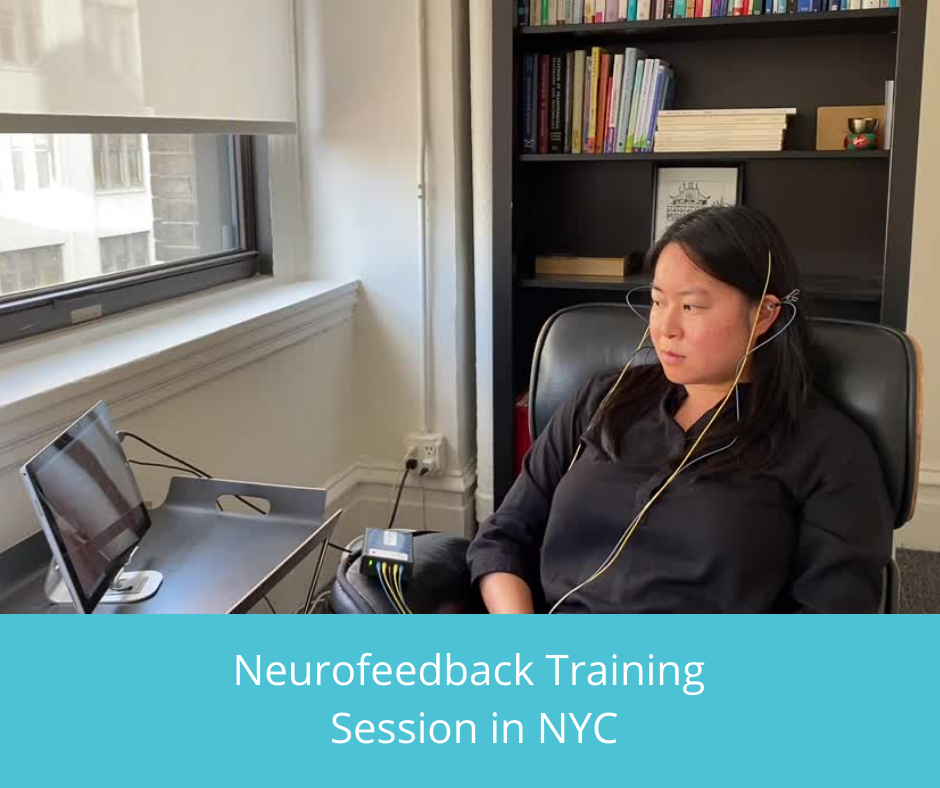 neurofeedback Therapy
Location: 32 Union Square East, Suite 1017, New York, NY 10003
Cost per session: $150

COVID-19 UPDATE: We continue seeing clients in our NYC office with updated in-office protocols. See this page for our in-person session policies.
schedule an In-Person session Today!
Fill out this form to set up your first appointment or schedule a free 15 min. Phone Consultation
What is Neurofeedback Therapy?
The term neurofeedback is broadly defined as a technique that alters brain activity by first tracking the brain wave activity through EEG sensors, sending that data to software that can register maladaptive activity, and then lastly, causing the brain to pay attention using an auditory or visual cue. And all of that happens in less than a second!
In general, neurofeedback helps us with cognitive and emotional functioning, allowing better focus, and emotional balance, and improved sleep habits and mental acuity.

How Many neurofeedback sessions are needed?
Most clients, they come in for weekly or bi-weekly sessions for a total of 20-25 sessions. Some clients start with in-office sessions and switch to renting a system and training themselves at home.
The number of sessions a client will want varies depending on the reason for training if there are underlying health conditions that may slow progress and general lifestyle habits.
In our 11 years of offering neurofeedback sessions, we have found the best results come from people who train regularly without big gaps between sessions, and who are also psychologically ready for change. For example, clients who come in stating that they are ready to feel calm, let go of worries and experience themselves differently see results more quickly than those who, for example, think their worrying serves them.
Neurofeedback

Reviews
"Neurofeedback has been the the best thing I've ever done to improve my life, both personally and creatively."
"The greatest impact is that I feel more mentally grounded and focused."
to schedule an In-Person neurofeedback session in NYC Today!