What Neurofeedback Can do for you
NeurOptimal® is safe and non-invasive brain training.
It works by giving real-time feedback, like holding up a mirror to your brain so that it can see itself and its bad habits.
Imagine that you hadn't seen your reflection in a mirror in a long time. If you saw that your head is tilted and you're slouching forward, you would naturally adjust. In the same way, when the brain gets feedback about its unhealthy patterns, and you get to manage sleep better, feel more focused, and emotionally grounded.
Neurofeedback at Home
The neuro-technology we use for office sessions in NYC, Los Angeles and Colorado can also be rented or purchased for home use. When renting a system for a monthly cost per session can be as low as $40 per session or more. A new system cost $7,000 and up. Our clients often rent first and then decide to buy.
Why NeurOptimal
NeurOptimal is the only fully automated Dynamical neurofeedback system available in the world! It's safe for all ages (approved by FDA as a wellness device), easy to use (the expertise is built-in) and the most effective brain training to be used at home for the whole family.
Latest Neurofeedback review from a renter

I was extremely impressed with both the impact of using the NeurOptimal software as well as the quality and care that the my neurofeedback rental manager Sara put into her interactions with me throughout my rental period. I rented the system for two months and felt a very tangible relaxation effect in my body. The longer I used it, the more this effect accumulated and I will certainly be looking into renting one again when I am able. After getting used to the set up, it is simple and quick to set up sessions for yourself and as I said, the sessions really build on themselves in a subtle but tangible way. Sara, my rental manager, always interacted with me in a way that felt human and personal, and I always felt like I was being respected as an individual and not just as a customer. Thanks Sara!

– S. in Oregon
More success stories from renters
Not sure which Training option is best for you?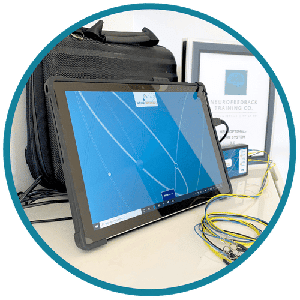 Schedule a free 15 minute phone consultation with one of our trainers to discuss:
Your training objectives
How many sessions you'll need
Tips for getting the most out of your neurofeedback training, and
Whether to rent or buy the professional-grade home unit.
Simply fill out the form to the right to schedule a consultation!