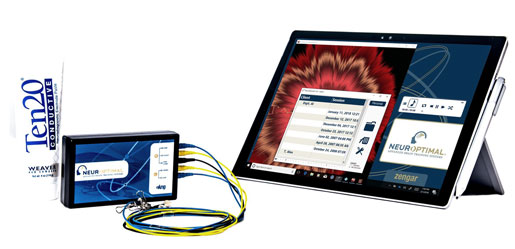 Buy The Professional Neurofeedback Equipment by NeurOptimal
Cost of Neurofeedback equipment
Professional Unit:

10,400 starting price
FINANCING OFFER AVAILABLE!

Fill out the form to the right and our NeurOptimal Representative will get in touch with you for any questions you may have about the next step.
Why the NeurOptimal Neurofeedback is the #1 Choice for your Private Practice
Why choosing NeurOptimal over other EEG Biofeedback Equipment?
It's safe and non-invasive. NeurOptimal provides feedback to the trainee's brain about it's real-time patterns. Improvements happen because that brain corrects the patterns that are maladaptive and produce the symptoms.
No push and pull training – No side effects. The trainer is not forcing state changes through manipulating the brain's electrical patterns, therefore the changes are gentle and organic.
No brain mapping or diagnosis needed to train. The trainee is not required to pay for a costly brain map prior to starting training. NeurOptimal's advanced dynamical technology does not require a map prior to beginning. This saves the client $500-1000 of upfront costs.
Easy to use and affordable in comparison to other brands. Because NeurOptimal's technology does not require an expert to conduct the session, the training is easy to facilitate in your clinic. There are also no ongoing licensing fee required.
Yes, I'm interested in buying a neurofeedback system!