Looking for Neurofeedback Near You?
Rent a Professional-grade Neurofeedback System by NeurOptimal®
Save in Neurofeedback cost and rent today! Train together in the same household!
When renting the NeurOptimal® neurofeedback home device a session can be as low as $40/session or more. Fill out the form to request a rental or schedule a free 15 min. phone consultation with a Neurofeedback Trainer today! Scroll down to view our pricing.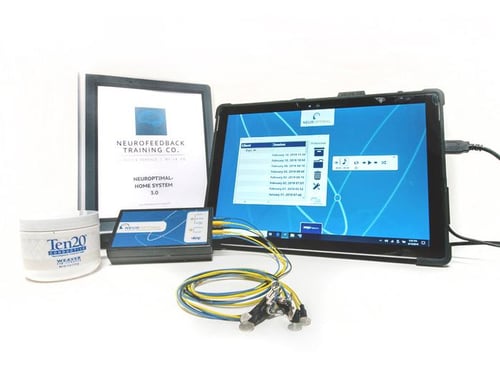 Why Rent A NeurOptimal® Home System?
Get everything you need to train at home, including conductive paste and an exclusive step-by-step manual on how to use the home system. An experienced rental coach will also be assigned to you to guide you if more help is needed.
What is the Cost of a NeurOptimal® Home Rental?
Neurofeedback Cost & Plans:
*$650/month; PERSONAL PLAN: Includes 12 sessions. $25 for any additional session
*$800/month; FAMILY PLAN: Includes 22 sessions. $25 for any additional session.
*$900/month; UNLIMITED PLAN : Includes unlimited session. Train up to 6 people per household.
* Plus NY, CO & CA Sales Tax. Shipment not included. Cost of shipment is $75 within NY, CA, CO and $90 all other states. 2 months commitment to Hawaii and Alaska due to high shipping cost. $150 to Canada one-way shipment.
How does it work to Rent a Neurofeedback Home System?
The NeurOptimal® System is the only fully automated neurofeedback system available today.
Provides Safe Training, Effortless System - No diagnosis, no brain mapping or expert neurofeedback trainer needed as the expertise is built in!
Pay as you go! You decide how long to keep the device. The only commitment is one month.
Great experience and support – We have been renting out NeurOptimal home systems for over 10 years. Our four certified neurofeedback trainers have lots of experience renting neurofeedback devices throughout U.S. and Canada.
Best price guaranteed! – We're happy to match any price to get your the lowest cost in NeurOptimal® at home rentals.
Not sure what plan to get? Fill out an inquiry today to discuss your options with a neurofeedback trainer!
Read Success Stories - NeurOptimal® Neurofeedback Reviews
I've been taking in-person neurofeedback sessions a clinic in Portland neurofeedback and loved them. I wanted to have this available for my family. That is why I looked into renting a neurofeedback home machine.

– Bryan, Portland, Oregon

The effect on myself is beyond adequate description. Daily increasing peace, focus, better sleep and especially less stressful response to the challenges I face.

– Mary, Tacoma, Washington State
Fill out the form to Start Your Brain Training Journey Today!
We have limited systems available at at times a wait-list. First come, first serve!