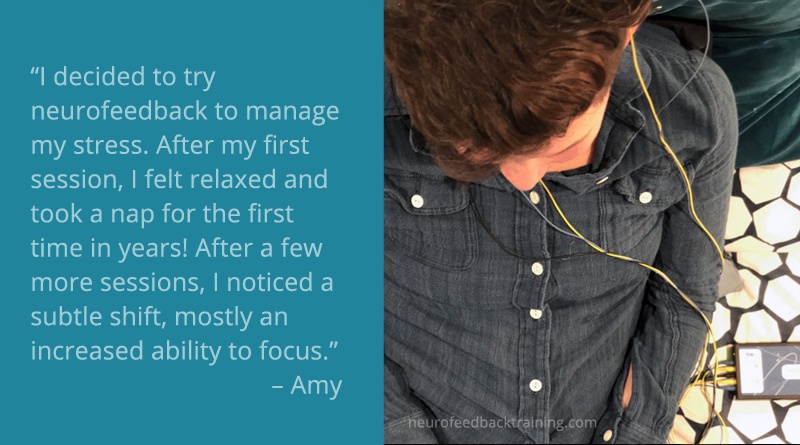 Do you live far from in-office neurofeedback therapy? Can you set an appointment with yourself for 45 minutes twice a week? If yes, then a NeurOptimal® neurofeedback device at home is the best way to bring superior brain training into your wellness regime. We give our clients the choice: to train in-office or take a device home. 75% of our clients choose the neurofeedback home kit and they're not disappointed.
What Are The Steps For A Neurofeedback Home Device?
Decide which plan

works best for you. The Personal Plan is ideal for one trainee, the Unlimited Plan is great for a family.
Fill out your contract

to get started.
Watch the videos

on how to set up a home device
Your rental will arrive in 3 business days.
Set a training schedule for 2-3 times a week in your calendar.
Don't forget to

fill out our progress tracking sheet.
Neurofeedback

Reviews
Neurofeedback Seattle, WA
We get a lot of requests from people in north west region and in particular from Washington state. There are not a lot of NeurOptimal providers in the area or clients find driving to an office takes a lot out of their days. We offer the same neurofeedback device for home use as our systems in our offices in New York and Los Angeles, with training on how to use the system at home.
Review from Marcia, Redmond, WA:
I decided to try neurofeedback after a friend told me how it helped her and suggested it to help me manage stress. After my first session at a local neurofeedback clinic near me , I felt relaxed and took a nap for the first time in years and slept soundly that night (I guess my brain needed sleep!). After a few more sessions, I noticed a subtle shift, mostly an increased ability to focus. I decided to rent to save in cost and so that my boys, ages 7 and 9 could also train at home. They both say they now feel more relaxed and are not feeling so overwhelmed with school and homework. I noticed too that they were calmer and happier.
Here's what a client in Oregon wrote us after renting a home system for two months to support her recovery from a car accident:
It has been over a month without the training and I still am doing well with focus and ability to get things done. I feel "sharp" again and life has been more manageable since the training.
Fill Out The Form To The Right To Schedule A Session Or Get A Free Consultation!
Neurofeedback Rental Supports:
Video tutorials and manuals both online and printed
Easy-to-use system. Most clients learn in 15 minutes
Support from Rental Manager

Online tech support
Want to learn more about NeurOptimal?
Watch our videos and see what a session looks like.
Yes, I'd like a free 15 minute consultation