What is Neurofeedback?
Neurofeedback training with the NeurOptimal system is a non-invasive, effective and safe process to optimize your health. Clients usually notice the following after a set of 10-25 sessions:
feeling calmer and lighter,

increased mental clarity, focus,

and ability to accomplish tasks

decreased worry and stress, a more appropriate emotional response to situations,

improved sleep habits, feeling more rested and awake
And now a word from our clients.....
...Doing Neurofeedback Training in NYC
"This chair, office, and view is now one of my favorite places in the city. After my neurofeedback sessions I feel more vividly aware of my surroundings (wacky and wonderful NYC) but less stiff, afraid, and rigid. I walk the busy streets of NY still seeing the car zooming by and hearing the fire truck sirens but I'm have been watching some of my hypervigilance melt away"

- Alison, 6 sessions and on going

"About 15 minutes into the session I feel my system slow down and my body feels heavier and stiller. That's when I let myself just be".

– Beth, 20 neurofeedback sessions

"It was difficult to notice what was different after my first session but I did notice that colors around me seemed brighter and more colorful. I also felt more relaxed in situations that would normally stress me out"

- Sandra, 12 neurofeedback sessions and ongoing
...Doing Neurofeedback at Home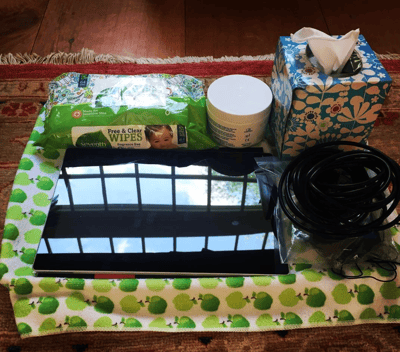 A rental client sent us this photo. She is doing chemotherapy and added neurofeedback to help with chemo-brain symptoms, sleep, and for emotional regulation. She's keeping the tray where she can see it to remind herself to train. (Black shiny object is the Surface Pro tablet available for rent or purchase payment plan is available.)
A client in California rented a home system for one and a half months for their 6 year old son focus issues at school. After 10 sessions there were hardly any noticable shifts. After 5 more, client wrote to us with this testimonial:
"You're right that the changes are subtle. He enjoys the sessions and he appears to have more control over his emotional outburts, which is a good sign.
---
Read Also:
Is Neurofeedback Safe? Does Neurofeedback Have Side Effects?
---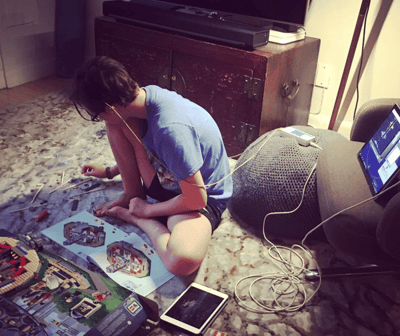 Here's another review from a parent of a teen:
"Brain training with the NeurOptimal system can happen alongside any activity so long as the sensors don't fall off! My daughter likes to build her lego while her automatic functioning brain gets its workout!"
NY Neurofeedback Center
Interested in trying a session?
Destress for lunch! A braintraining session only takes 40 minutes - a perfect #reset and recharge activity to stay on top of your game. We're located in New York City, Los Angeles (Pasadena), Denver and Boulder. Special offers available for those who want to try a session.
Neurofeedback At Home
A neurofeedback rental is for you who cannot find neurofeedback near you or for the person looking for a more convenient and cost-effective alternative. The NeurOptimal system you'll rent from us provides the same training as in-office sessions. Cost per session can be as low as $40 per session or more. Click here for pricing.