Rent a NeurOptimal At Home Kit & Save in Neurofeedback Cost

The advanced top rated neurofeedback equipment by NeurOptimal is easy to use and an effective non-invasive brain training method for all ages. When renting from Neurofeedback Training Co.. you'll get the lowest prices on the NeurOptimal neurofeedback home rentals in U.S.. Cost range from *$600 to $900 per month.

Fill out the form to the right to get started!
Why Rent from Neurofeedback Training Co.?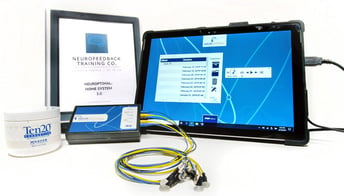 Neurofeedback Training Co. is the largest neurofeedback equipment rental company. We have been providing NeurOptimal rentals in U.S. and Canada for over nine years.
Easy to set up at home. We provide a printed step-by-step manual with each rental. We ship directly to your home at a flat-rate of $75 (includes hassle free return) within U.S. and $100 one-way shipment to Canada.
* Plus Tax in NY, CA & CO State. Minimum rental is 1 month (= 30 days). Shipment cost billed separately. Price matching! Found a lower price somewhere else? We're happy to match.
Why NeurOptimal?
Training the brain using neurofeedback systems such as NeurOptimal is a natural way for the brain to optimize itself. NeurOptimal is FDA Approved as a wellness device and is a completely non-invasive brain training. No diagnosis nor brain mapping required – it's effortless brain training.
Still have questions? Discuss your Best Training options with a Neurofeedback Trainer

Fill out the form to the right and we'll get back to you with the next step in renting or to schedule your free 15 min. phone consultation.
Yes, I'd like Request a Rental and/or Talk to a Trainer