About
Sara St. John,
Certified NeurOptimal Neurofeedback Trainer in Los Angeles & Rental Manager Coach for West-Coast Region
After experiencing results training in the NYC office in 2012, Sara enjoyed the training so much that three years of training, she decided to become a NeurOptimal Neurofeedback Trainer herself. After relocating to Los Angels, she now sees clients at a therapy office in Pasadena two days per week and when not there she manages the home system rentals in the west-coast region.
Los Angeles Neurofeedback Info
Cost: $160/per session (includes a live demo of a rental upon request). Payment required before appointment. Learn more
Address: 28 N. Oak Ave., Pasadena, CA 91107, view directions
Availability: Friday, Saturday and Monday (by appointment only)
Session Time: 55 minutes total (the brain training program is 33 minutes long. If renting a home system, a live demo is available upon request.See below for more information.)
How to Schedule: Fill out the form to the right to inquire
Do I need a brain map before the appointment

?

No. NeurOptimal® is a fully automated neurofeedback system. No brain mapping or diagnosis necessary as the expertise is built-in. It's a newer generation technology that provides real-time feedback. Watch this webinar to learn how it works prior the appointment.

Forms:

At the time of your session, two forms are required; A Consent Form and Checklist Form (both provided at the session). NeurOptimal relies on self-assessment tools such as a Checklist to monitor progress. Learn why.
Neurofeedback Training - Rent A Home System: A rental system may be picked up at the time of the session. A reservation is then needed prior appointment. The home neurofeedback rental device provides the same training as in-office sessions and is the most affordable choice for long-term brain training and results. Cost of a rental range from $650 and up (CA Sales Tax applies). See this page to learn more and book a reservation today.
Yes, I am interested in Neurofeedback
---
Table of Contents
---
What Neurofeedback System Do We Use at the Los Angeles location?
The system we use for sessions and rentals at Neurofeedback Training Co.. is called NeurOptimal® and was developed by Zengar Institute. Their proprietary neurofeedback system is a highly personalized brain training software that prompts the central nervous system to optimize its use of energy and only perform functions that are needed for present-moment needs. For example, reactive yelling at work, which is the stress response, is not an efficient use of brain energy when speaking calmly will do the task. The brain needs feedback that here-and-now is not threatening and that it's about to use a huge amount of energy to solve a simple issue: your employee sent out the wrong information to a client just address it calmly. This is the automatic brain that reactively, and habitually uses the 'yell response' in communication. NeurOptimal training allows the brain to register that inefficiency and re-wire itself to use energy more effectively.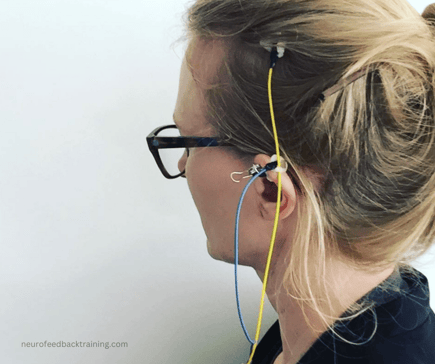 How Long Is A Session And How Many Electrodes?
The actual running time is 33 minutes but overall a session is 55 minutes if you include the time to put sensors on and remove them. There are a total of five electrodes, to their ears and scalp picking up brainwave activity. Watch a video how what a NeurOptimal neurofeedback session looks like.
How Is Your System Different From LoRETA, BrainPaint, Brain State Or EEGinfo?
Many of our customers want to know what sets NeurOptimal apart from the first generation, linear neurofeedback systems. Besides cost, there are three main differences between the Dynamical NeurOptimal® Neurofeedback and other Biofeedback EEG systems.
No brain mapping needed
No diagnosis, or set protocols needed as it trains the entire central nervous system at once
No expert trainer needed as the expertise is built-in
Learn more about these differences here.
Is Neurofeedback Covered by Insurance?
Most insurance considers it "experimental" and don't cover it. We do not accept insurance for neurofeedback sessions at the Pasadena location. However, if renting a home system and your insurance company allows out-of-network expenses for "neurofeedback" we can provide an invoice for you to submit. Sometimes the insurance company may also need a recommendation from a Doctor or therapist therefore we recommend checking what their requirements are prior. It is good to know that an out-of-pocket home rental is roughly the same cost per session as a co-pay.
Neurofeedback training is not considered a treatment. It's an advanced brain training method to improve overall brain function and the process is very individual and gradual. With consistent training, it can reduce many symptoms. Talk to your neurofeedback coach about what would work for you or see this blog post and video: How many neurofeedback sessions do I need?
Why Rent a NeurOptimal® Neurofeedback Home Kit
Here are our top reasons why NeurOptimal provides the best neurofeedback Training at home
All our systems have the latest NeurOptimal 3 software
We ship throughout U.S. and Canada
Cost-effective: Price per month range from $650 and up (+CA Sales Tax). Pay as little as $40 per session or $30 per day (unlimited use plan)
Fully automated cutting edge neurofeedback technology! This neurofeedback system does not require any diagnosis or expensive brain mapping or an expert.
It's a non-invasive neurofeedback technology suitable for all ages
Sara manages clients in the following states; California, Oregon, Hawaii, Washington State and British Columbia, Canada. If interested in a rental, see this page for cost.
---
What is NeurOptimal good for? Read Reviews
Depending on each individual's habits and goals, the benefits of neurofeedback can be wide ranging and far-reaching. The main areas that people report benefits in are sleep management, mental fitness and emotional fitness. All three of these are essential for peak performance in athletics, at work or in school.
Optimization through brain training is different for everyone because every brain is different. Our happiest clients are those who train for a period of 2-3 months, with a consistent schedule of 3 sessions or more per week. Here are a few reviews from clients who have tried NeurOptimal® Brain Training, many of them report that it has helped them with cope with reactive thoughts, increased focus and reduced worrying and anxiousness as well as sleeping deeper at night.
This family of four in San Diego trained together for a period of three months:
"We had a great rental experience being able to speak with you personally and communicate with Sara so quickly was very nice and all of us benefited from the training sessions. We all feel less reactive and less anger bursts. Once could say there's a background of calm in the household and a lot less tension and stress. So thanks again! "
This is from a client who first began with in-person sessions in Pasadena and then decided to rent. After two months she noticed a change with her sleep and mood:
"I first started with local neurofeedback sessions but with my busy schedule and traffic in LA it was hard for me to keep up the appointments. I rented for two months and really enjoyed my neurofeedback sessions at home. I struggle with sleep and would wake up night, and per Sara's suggestion I started doing the sessions when I would wake up at night. I did this a few times in a row and was pleased to finally break this cycle and sleep throughout the night. I do a lot for my health and understand that this is one of many tools that can boost my wellbeing, therefore I re-rent now and then to keep my stress regulated and simply live a more enjoyable life - I always feel like I'm in a great mood after I do a set of session!"
Here's a LAUSD school counselor's review
Neurofeedback Training has helped me greatly with sleep issues, anxiety, energy and focus. It takes time and consistently, but you will see results if you do it regularly. I notice immediate results but also cumulative results with regular sessions. I did a large number of weekly sessions and now I just use it occasionally to re-balance some of these issues. I use this in conjunction with other treatments and modalities."
C. Glendale, CA. Read full review on Yelp
Here's a therapy student's review of the training
Neurofeedback has helped me immensely. I did a lot of research and made a lot of phone calls before finding Sara. You can tell she actually cares about making a positive influence in someones life and not just a dollar. She is not pushy, and she is very informative. I came in for a session and then rented to save in cost. I enjoyed it very much and noticed an improvement while studying. Now I come in for "tune-up" rental sessions whenever I feel I need to de-stress.
S.T., Eagle Rock, Los Angeles
This client had the right attitude seeing it to be an important investment in ones overall brain health
Sara was absolutely wonderful from start to finish and beyond: highly supportive, flexible to work with my situation and needs. I came in for 3 sessions first and then rented a home unit. She had a number of suggestions during my 3 month rental process which helped me get the most out of my brain training investment.
S.P., Pasadena,. Read Yelp Review
Popular Blog Articles on Neurofeedback Training